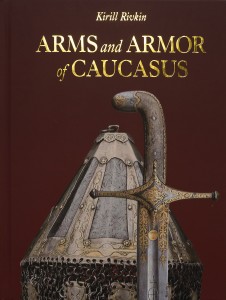 Kirill Rivkin's book, Arms and Armor of Caucasus, presents the most extensive, detailed, and comprehensive study of this subject available in English. As such it is an absolute necessity for collectors, curators, historians and anyone else interested in this fascinating material. In addition, this handsomely produced book will make a fine addition to private and institutional libraries as a reference work and guide to this understudied and, until now, poorly understood subject.
Donald J. La Rocca,
Curator of Arms and Armor,
The Metropolitan Museum of Art, New York
Since medieval times Caucasus was one of the most important centers of manufacturing of arms and armor. It played a crucial role on the cultural crossroads between Persia, Ottoman Empire and Middle-Eastern European policies, especially  those of Russia and Polish-Lithuanian Commonwealth. Until now, the existing knowledge of this significant region and its cultural influences was not available for English readers. Kirill Rivkin's book fills long lasting gap for collectors and scholars, paving a new standard in the research on the historical weaponry of the Near East.
Michal Dziewulski, National Museum in Krakow
Kirill Rivkin's book, Arms and Armor of Caucasus, is a very good book to know a general picture of Caucasus weapon culture. The beauty of sword blade, hilt, sheath, and other design is also given perfectly from many photographs included.
Masahiro Kitada, Prof. Emeritus, Tokyo University of the Arts
I would highly recommend the recently published 'Arms and Armor of Caucasus' by Kirill Rivkin. As you know, new solid academic approaches to our subject are few and far between and we seem to be infested with coffee table publications that simply lift off the same old presumptions we are desperate to steer away from. Rivkin's book approaches his field with a confident hand, and gently lays out the historical and martial side of the Caucasus (first two chapters) which leads to the weapons (chapter three) which dominates the majority of the book. This is not a catalogue, with flowery and meaningless descriptions – this is a true scholarly study of the weapons of the Caucasus and anyone that has an interest in arms from any region in the east will be able to find information here to use in conjunction to their own subject.
The print is good, and there are some impressive unpublished pieces of great importance. All in English but I wish I could read Russian so I can go through the goldmine of references in his bibliography
An Important British Collector
From the publisher:
While the book's main focus is on the development of arms and armor in Caucasus between the sixteenth and the early twentieth centuries, it does so in a more general context of period Eastern weapons, from those of late Mongol Empires, to Safavid Persia and the Ottomans. Its 328 large format pages are dedicated to providing both the overall classification of Caucasian weapons, as well as being a guide in both dating and attribution of such weapons to a specific culture – Circassian, Georgian, Dagestani, Chechen, Armenian, Azerbaijani and so on. Well illustrated, with 213 photographs, including many unique, never before published items from both private and museum collections, it attempts to demonstrate all major forms of edged weapons and defensive armaments, from exceptionally rare early helmets to such classical Caucasian forms as kindjal and shashka. Most of the photographs were taken by well known still life photographers and are true works of art on their own. Though the book is in English, translations of figure captions into Russian are provided.
Please download the Sample Chapter in low resolution.
The book can be purchased from:
Amazon
E-Bay
Ken Trotman Books (UK)
Or directly from the publisher's warehouse. Shipping worldwide is done through Amazon internal service, except Russia and Canada, where it ships by EMS only. Please use the form below to order and we'll send it right away:
Please do not hesitate to contact us at sales@historyswords.com.
There are quite a few reviews and interviews regarding this book available online, such as:
Kirill A. Rivkin – official announcement (in Russian):
And couple of interviews (both are in Russian):
https://aheku.net/news/culture/6389
http://kavpolit.com/articles/kultura_poedinka_opredelila_otnoshenie_kavkaztsev-21267/